| | |
| --- | --- |
| STUDI • MARIANO TOMATIS ANTONIONO | |
Inverted De Chérisey decoding method in Circuit (1971)
BY SWAPPING THE KEYS, THE RESULT IS THE SAME • IN PRINT ON INDAGINI SU RENNES-LE-CHATEAU 12 (2007)
Note: This article refers to this one. Using this software created by me you can verify by yourself the process step by step.
Inverted decoding method - Step I
De Nègre epitaph has 128 letters:
CTGITNOBLEMARIEDENEGREDARLESDAMEDHAUPOULDEBLANCHEFORTAGEEDESOIXA
NTESEPTANSDECEDEELEXVIIJANVIERMDCOLXXXIREQUIESCATINPACEPSPRAECUM
On Circuit this is the string 1*.
Here Philippe de Chérisey should have specified that the string should be reversed, but he didn't. I discovered the need of reversing it but the text doesn't say so. Without this step, the method doesn't work.
So, the reversed string is now:
MUCEARPSPECAPNITACSEIUQERIXXXLOCDMREIVNAJIIVXELEEDECEDSNATPESETN
AXIOSEDEEGATROFEHCNALBEDLUOPUAHDEMADSELRADERGENEDEIRAMELBONTIGTC
By applying to the text the key MORTEPEE (coming from the eight "errors" on the same tombstone)...
Click here to see the interaction between the two strings
...you get
AKUZFIUYDTUUUENZNRLZNLVJFYPRCCTHQCKZNMSFXYBQCUQJRSXXJTYSNJIZYUZS
NMBJYUIJRVSOXFKJURGUQRJIZKHKAQMIRCSYYUQXNSXMLUSJQTBMFDJQOEGONXZH
Decoding method - Step II
The Grand Parchemin has 128 additional letters (1) which can be used as a key:
VCPSJQROVYMYYDLTPEFRBOXTODJLBKNJFQUEPAJYNPPBFEIELRGHIIRYBTTCVTGD
LUCCVMTEJHPNPGSVQJHGMLFTSVJLZQMTOXANPEMUPHKORPKHVJCMCATLVQXGGNDT
On Circuit this is the string 2*.
Click here to see the interaction between the two strings
...you get:
XNLSPANNASITTIATEXRRPBTEUCAEENIRXTGEENDELORSIAAOELEFSDQRPEDCUPGX
AIEMUIDOCEJDNMEGMCOCEEPDSHRXAIADHATMOAESEBICELERNEEAIEEDLVEVULDC
That's all.
Now the text should be written on two checkers and read along two Knight Tour (by starting from right one).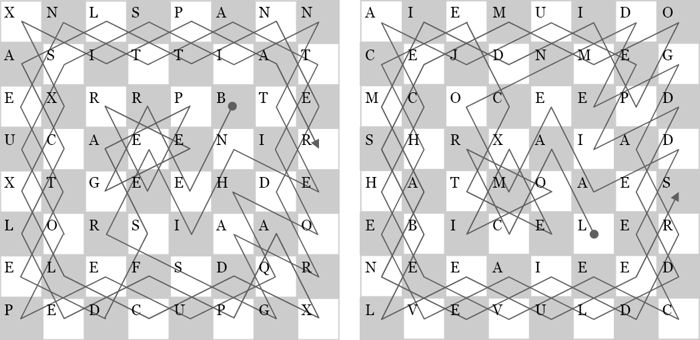 BERGEREPASDETENTATIONQUEPOUSSINTENIERSGARDENTLACLEFPAXDCLXXXIPAR
LACROIXETCECHEVALDEDIEUJACHEVECEDAEMONDEGARDIENAMIDIPOMMESBLEUES
This is the second method suggested by de Chérisey description.
The direct method is described in this article.
1.They are 140, because of AD GENESARETH.